MYOB ADVANCED CUSTOMER RELATIONSHIP MANAGEMENT SOLUTION (CRM) WITH AN INTEGRATED B2B CUSTOMER PORTAL
MYOB Advanced Customer Management
Take your customer relations to the next level with MYOB Advanced Customer Management solution. With customised dashboards and reporting tool, opportunity pipelines and management, integrated marketing, business intelligence, service & support automation and customer self-service portal, you are sure to delight your customer on every step of their customer journey.
Customer Relationship Management (CRM) encompasses all the actions a business undertakes to establish, nurture, and improve its connections with customers. MYOB Advanced CRM software offers a comprehensive set of tools to ensure prompt customer service and effectively oversee every aspect of the customer experience.
Customer Management solution also includes web-based Customer Relationship Management (CRM) applications for managing leads, contacts, opportunities, and customer accounts.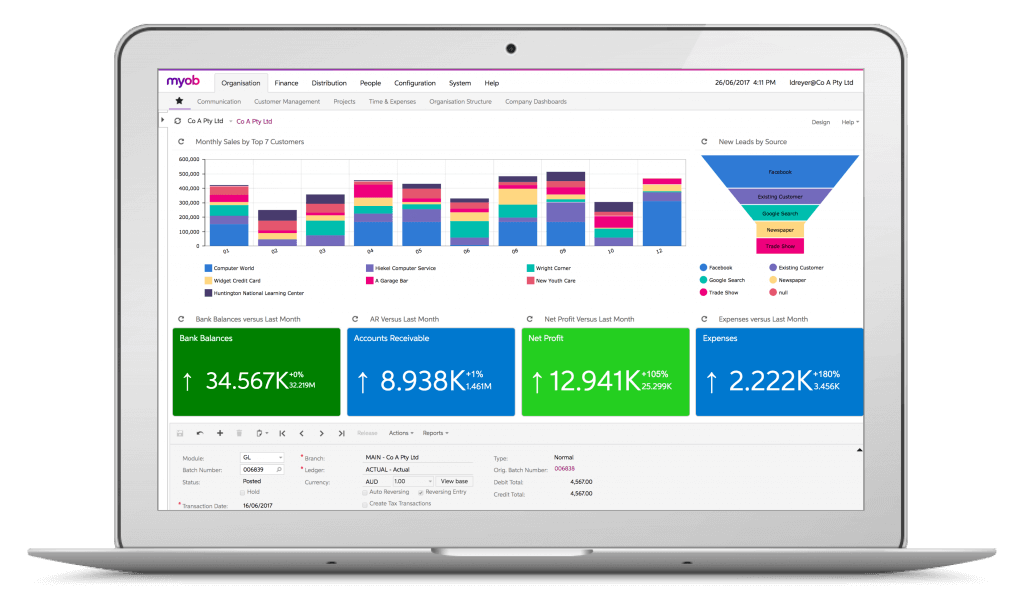 Why MYOB Advanced Customer Management
An integrated CRM-ERP solution such as MYOB Advanced serves as a unified source of truth for businesses. This means that every department, from marketing and sales to customer support, operates with synchronised, real-time data, empowering them to make informed decisions that enhance the customer journey. As leads progress into opportunities, the CRM captures and shares customer interactions with the ERP system. When the sales team generates quotes, the ERP system efficiently handles orders and invoices. Furthermore, when a customer issue arises, the customer support team is equipped with details about the problem and its history.

This integrated CRM-ERP solution approach ensures that every facet of the customer's journey is interconnected and transparent, granting businesses a 360° view of all customer information. Additionally, this all-in-one solution offers the following benefits:
Simplifies lead management and event tracking.
Automatically links sales orders and quotes to opportunities.
Enables the use of email templates for automated communication.
Provides insights into campaign response rates and sales performance in terms of profitability.
Enhances contact management, such as creating leads and contracts directly from the email inbox or importing bulk customer data from Excel.
Utilises advanced reporting tools and personalized dashboards.
Facilitates quick and prioritized responses to customer requests and concerns.
Ultimately, an integrated CRM-ERP solution equips businesses with the knowledge, visibility, and insights necessary to cultivate loyalty among current customers and pique the interest of potential ones.
From marketing, quoting, and sales to delivery and post-sales support, customer information is always up to date and accurate. MYOB Advanced provides a consolidated view of all customer records in a single database. This access to all written quotes, invoices, and support cases provides to every member of your team a 360-degree view of all customer activities and records. Dashboards and reports provide real-time sales data to help your team manage forecasts, quotas, and results. Efficiently communicate and collaborate with customers through the Customer Portal.
Benefits of MYOB Advanced Customer Management for your business

Accelerate decision making with reporting tools that deliver customized views of your business overall and focused views of departments and functions.

Deliver a 360-degree view of customer activities and information with full drill-down to everyone in your organisation to better serve the customer.

Customer Self-Service Portal
Furnish 24/7 customer access to account information, the creation of new support cases, and the latest case updates through the online self-service portal.

Manage leads, improve conversions, measure campaign performance, communicate with contacts, and improve productivity. Marketing teams can capture leads from web forms, purchased lists, advertisements, direct mail, events, and other sources; send branded email offers and track the best channels for qualified leads.

Service & Support Automation
Reduce response times, improve customer satisfaction, reduce support costs, and improve billing accuracy. Create a case from captured web form inquiries or manual entry. Assign cases, escalate per your set policies. Ensure accurate billing through financial module integration.

Opportunity & Pipeline Management
Provide a complete view of opportunities and contacts to make your team aware of all experiences that may influence the sales decision. Improve efficiency with a workflow-assisted lead assignment and sales process management.

Gain a complete view of your business with integrated financials, marketing, sales and service.

Give customers access to the financial and case information you choose through your Customer Self-Service Portal.

Team approach to sales and service
Share information to build an effective team approach to customer management.

Respond rapidly to customers' requests at any point in the sales cycle – from the first contact, through sales and fulfilment, billing, and after-sale service requests.
CRM Add-in for Microsoft Outlook
The MYOB Advanced add-in works with incoming and outgoing email in Outlook.

Track expenses and revenue related to a marketing campaign (requires the MYOB Advanced Project Accounting module).

Real-time Synchronization with Salesforce
MYOB Advanced ERP supports bi-directional real-time synchronization of data between MYOB Advanced ERP and Salesforce CRM, allowing for simultaneous work in both systems.
Users can choose to export the following entities to Salesforce by predefined scenarios: Leads, contacts, business accounts, opportunities, sto
MYOB ADVANCED CRM
MYOB Advanced streamlining a Sales Process
Review this Video as MYOB Advanced take you through a rapid streamlined Sales Order Process perfect for the sales team.
Customer Management (also called Customer Relationship Management) was built into MYOB Advanced from the very beginning. It is not a loosely integrated module like so many other midmarket ERP products.
MYOB Advanced for IoS and Android mobilises your sales team!
Additional Resources for MYOB Advanced
Expand your knowledge of MYOB Advanced and download these free Resources!
Free Initial Assessment
Book a free initial assessment with us where we understand your business problem and suggest a solution which suits you best and ensures growth for your business.