SAP BUSINESS ONE VERSION 10
SAP Business One Production & MRP
Why Choose SAP Business One for Production and MRP?
The SAP Business One Material Requirements Planning (MRP) module enables you to plan material requirements for a manufacturing or procurement process based on the evaluation of existing inventory, demand and suppliers on changing planning parameters such as lead time determination, make or buy decisions, and holiday planning.
SAP Business One MRP calculates gross requirements for the highest bill of materials (BoM) level, based on existing inventory, sales orders, purchase orders, production orders, forecasts, and so on. It calculates gross requirements at the lowest BOM levels by carrying down net parent demands through the BOM structure. Dependent levels might have their own requirements, based on sales orders and forecasts.
SAP Business One implements MRP in a way that provides structure, but in a flexible manner, so that the instincts about what orders may or may not arrive can be represented in the models of inventory and demand and can inform the MRP runs. The application does not place orders automatically, but instead suggests them. These orders can then be improved after inspection by purchasing professionals or production managers who may have special knowledge that goes beyond what can be captured in an MRP application. For small and midsize businesses, this architecture provides just the right balance between automation and hands-on control.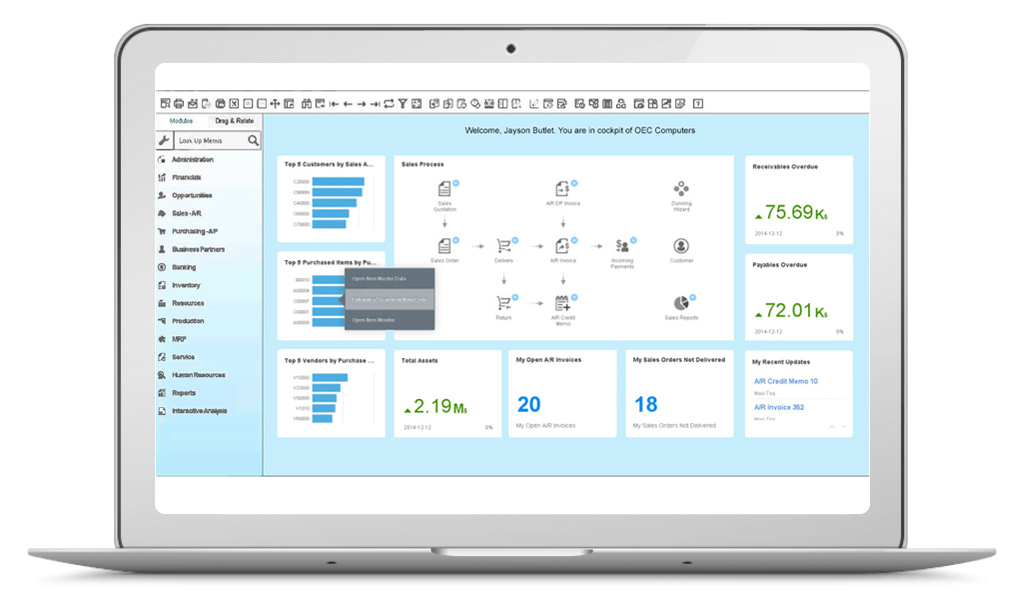 Why Choose SAP Business One?
How can SAP Business One for Production and MRP change the game?

In many cases, production companies receive sales orders on short notice. However, the production process might take a great deal of time. As a result, it is common for these companies to plan their purchasing and production in advance, even before they receive actual sales orders. This is the goal of a forecast. A forecast is designed to serve as an additional requirement. Therefore, the goods are produced based on the forecast, and when the actual sales orders are received, the company is able to supply the order quickly.
SAP Business One lets you generate forecasts based on historical sales records or manually entered forecast quantities. You can then use the forecasts as an additional data source for the MRP calculation.

Use the SAP Business One Production module to create and maintain the following:
Bill of Materials (BOMs) – specifies the quantities of components that make up a product.
Production Orders – a set of instructions for planning and assembling a production item. It tracks all the material transactions and costs involved in the production process, as well as additional costs, such as labour overhead.
SAP Business One supports the following types of production orders:
Standard – used for regular production. Components are copied from the item BOM.
Special – used to produce items or perform activities on the shop floor that are not based on the Standard BOM.
Disassembly – used to report the disassembly of an item with a production BOM. Components are copied from the item BOM.
A finished product may be the result of an entire production process or a collection of items that are sold as a unit but are not the output of a production or assembly process.
UNDERSTANDING PRODUCTION AND MRP!
Inventory Management and MRP in SAP Business One
Your company manages a large warehouse and keeps inventory on site. The main issues today are around over and under stocking of inventory items, as a result, orders are being delayed and customer satisfaction is diminished.
Your goal is to have better visibility into inventory turnover, overdue orders, and items with quantities below the minimum or above maximum. You also want to be able to plan inventory purchases based on demand rather than gut feeling. See how this can be achieved in SAP Business One!
Free Initial Assessment
Book a free initial assessment with us where we understand your business problem and suggest a solution which suits you best and ensures growth for your business.