Empower with data insights using SAP Crystal Reports
Firstly, Crystal Reports connects to the SAP Business One database on both MS-SQL and SAP HANA platform.
Crystal Reports is a popular business intelligence tool used for designing and generating reports from a wide range of data sources. Here's an overview of Crystal Reports:

Report Design: Crystal Reports provides a user-friendly interface for designing and formatting reports. Users can create reports from scratch or use templates and wizards to quickly generate reports.

Data Connectivity: Crystal Reports can connect to various data sources, including databases like SQL Server, Oracle, and MySQL, as well as Excel spreadsheets, XML files, and more. It allows you to extract and transform data from these sources to build your reports.

Data Visualisation: The tool offers a range of data visualisation options. Users can create tables, charts, graphs, and cross-tabs to present data in a clear and visually appealing format.

Formula Fields: Crystal Reports includes a powerful formula language that allows users to create custom calculations and expressions. This is particularly useful for manipulating data within the reports.

Parameterized Reports: Crystal Reports supports parameterization, which means you can create dynamic reports that prompt users for input parameters, such as date ranges or product names. This flexibility makes the reports more interactive and adaptable.

Export Options: Crystal Reports allows you to export reports to various formats, including PDF, Excel, Word, and more. This makes it easy to share reports with others or integrate them into other applications.

Scheduling and Distribution: Crystal Reports supports scheduling, enabling you to automate report generation and distribution. You can set up reports to run at specific times and deliver them to various recipients via email or other methods.

Integration: Crystal Reports can be integrated with other business intelligence tools and applications, including SAP BusinessObjects, to enhance reporting capabilities.

Security: The tool provides security features to control access to reports and data sources, ensuring that sensitive information is protected.

Customisation: Crystal Reports can be customized to match the branding and style of your organization, making the reports more professional and cohesive with your corporate identity.

Crystal Reports is widely used in various industries for creating detailed and customized reports that provide valuable insights to aid in decision-making processes. It's a versatile tool for anyone looking to analyze and present data effectively.
What types of reports can you create using Crystal Reports for SAP Business One to benefit your business?
We find this would be Tabular reports, dashboards, graphs and document layouts are typical of the type of outputs that can be generated using this industry standard reporting tool.

These outputs can also be exported to PDF and other standard export formats.

Reports can also be shown on the SAP Business One Mobile App.

Scheduling and emailing Crystal Reports is also possible using the SAP Integration tool known as B1iF.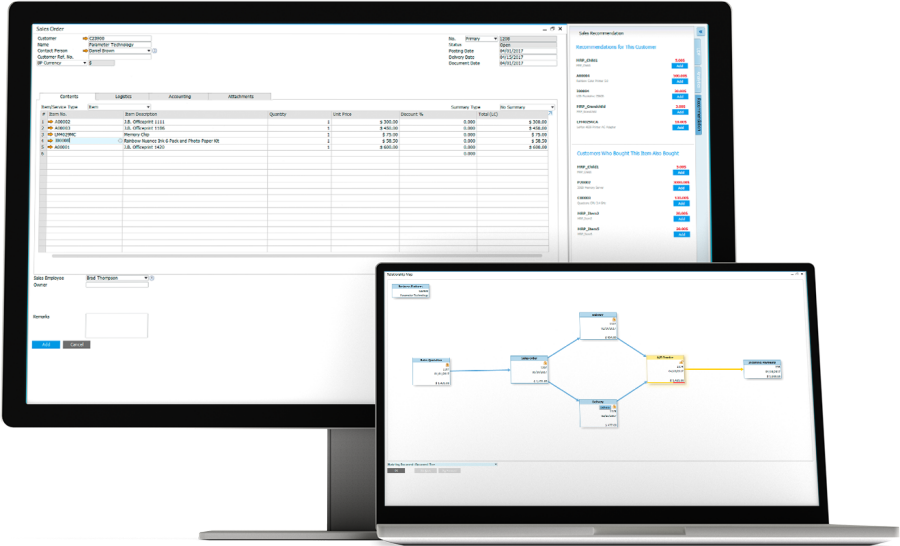 Integration
Crystal Reports directly integrates with the SAP Business One application, there is an additional file menu within SAP Crystal Reports to connect, save and preview reports within SAP as shown in the screen below.

Input and Selection
Standard SAP Business One input prompts can also be initiated from within Crystal Reports. In the below example, Crystal Reports is displaying the customary Business Partner prompt.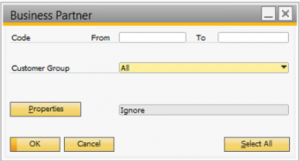 SAP Business One Crystal Reports – Options
SAP Business One Dashboards
SAP Business One Document Layouts
SAP Business One Report Security
SAP Business One Customised Reports for Mobile Access
SAP Business One Crystal Reports Scheduling and Email
Free Initial Assessment
Book a free initial assessment with us where we understand your business problem and suggest a solution which suits you best and ensures growth for your business.