SAP Business One Distribution & Inventory Management
Why Choose SAP Business One for Inventory & Distribution Management?
SAP Business One provides the tools to help you efficiently manage the entire sales process and customer lifecycle – from initial contact to final sale to after-sales service and support. Its integrated functionality provides a complete view of prospects and customers so you can better understand and meet their needs. As a result, SAP Business One can manage the process of managing prospects into customers, increase sales and profitability, and improve customer satisfaction./p>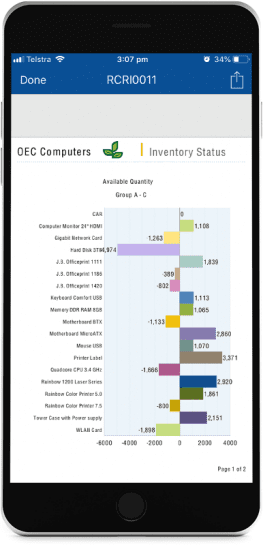 Why Choose SAP Business One?
Why SAP Business One for Inventory & Distribution Management?
Simply put SAP Business One capability for Inventory is class leading and connects all the business processes with industry specific capability on-premise, hosted and through mobile devices.
SAP Business One Distribution Management Suite
The strength of SAP Business One for wholesale distribution companies lies in effectively managing inventory. That means having the right material on hand when a customer needs it, but without having dead stock sitting around costing money. By using the forecasting and planning capabilities SAP Business One can help you to ensure that you maintain the appropriate amount of adjusted safety stock and through it all, you have to be able to take advantage of your suppliers' special offers.
Benefits of SAP Business One
Benefits of SAP Business One Inventory & Distribution Management for your Business
SAP Business One supports the real-time collaboration that companies need and enables:
An accurate understanding of customer needs and the ability to deliver the perfect order

Accelerated time to quote, improved order accuracy, and higher sales revenue

Quotation to Order Management
Sales management tools in SAP Business One allows you to create price quotes, enter customer orders, set up deliveries, update inventory balances, and manage all invoices and accounts receivable. SAP Business One offers efficient document development for every step throughout the sales process, including quotations. All relevant information is moved from one document to the next – from sales quotation to the sales order to the delivery note to the AR invoice – saving you time and reducing errors. SAP business One also gives you the flexibility to adapt the steps in the sales process to fit your needs and specific business processes.

SAP Business One offers a simple yet powerful planning function to help you schedule and manage items that will be produced or purchased using a variety of criteria. SAP Business One replaces informal, ad-hoc, error-prone production scheduling with a more structured process using better information from SAP Business One inherent capabilities such as bills of material, inventory data, inputs from scheduled production and purchase orders, and demand inputs from actual and forecast orders.

Whether its the myriad of standard reports that allow you to compare any date range to any date range or using Microsoft PowerBI or indeed using the inbuilt Report Designer or ultimately the Analytics ability of SAP Business One powered by HANA - SAP provide the answers to the questions! Obtain a unique, time-phased view of business data with dynamic analysis reports enabling you to readily spot trends, patterns, and behaviours of customers, items, suppliers, pick performance etc.

SAP Business One provides for management of the item master data, serial numbers, and price lists, as well as being able to define alternative items, perform inventory increase or decrease adjustments, execute cycle counts, and generate pick lists for open sales orders.
Manage stock using multiple units of measure and pricing.
Employ various costing models such as average cost, FIFO, etc. as defined throughout the business or by warehouse.
Track stock transfers, record goods receipts and issues, perform cycle counts, and enable consignment and drop-ship options.
Create and maintain multi-level Bills of Materials (BOMs); globally maintain prices.
Automatically create warranty records with Serial Number Tracking.
Gain full traceability with Batch and Lot Tracking functionality.
Manage the picking and packing process with multiple queues and automatically generated pick lists.
Quickly perform cycle counts with stock-take capabilities
Simplify pricing, contract, and order management to close faster.

Price & Margin Management
Improve revenue and margin with insight and sales-process support.

Enable collaboration across the team that transforms the way sales operates.

Contract & Order Management
Simplify pricing, contract, and order management.
Sales Order Billing & Payment Management
Utilise document relationships to show complete life cycle and history.
Free Initial Assessment
Book a free initial assessment with us where we understand your business problem and suggest a solution which suits you best and ensures growth for your business.