SAP Business One Financial Management
Why Choose SAP Business One for Financial Management?
With Accounting and Financial Software for SAP Business One, customers can drive accelerated, more reliable month-end processes and efficiently analyse the why and how behind financial results.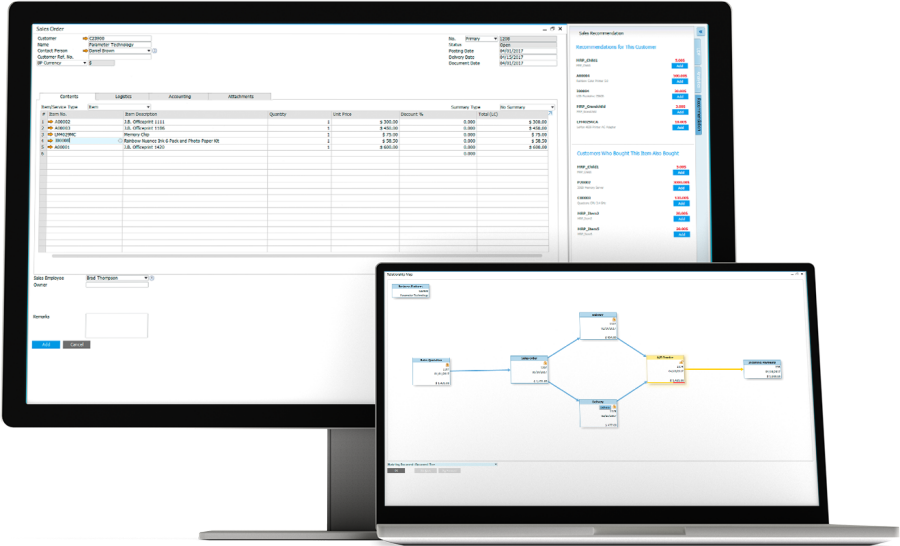 Why Choose SAP Business One?
Why SAP Business One Financial Management Suite?
SAP Business One offers fully integrated financial and banking functionality for complete across-the-board tracking, management, reporting, and control of all key financial and accounting processes.
Benefits of SAP Business One
Benefits of SAP Business One Financial Management for your Business
SAP Business One supports the strictest financial close requirements to give firms:
Support for consistent standards and efficient processes for reduced cycle times

High confidence in the numbers thanks to tightened control and transparent compliance

The SAP Business One General Ledger handles all of your financial transactions – including general ledger journal entries, budgeting, and account setup and maintenance – in one system, with comprehensive tools and reports.

SAP Business One allows you to define your own postings for regular execution in accounting and to specify a frequency and general ledger distribution for each recurring posting.

In SAP Business One you can define and manage budgets on existing accounts to compare actual and planned figures. SAP Business One alerts you whenever a transaction exceeds a monthly or annual budget limit.

SAP Business One Journal entries are posted real-time from the sub-ledgers i.e. sales, purchasing, and banking function's whilst also allowing you to create new journal entries and search for existing ones.

SAP Business One reversals of specified postings can occur on the first day of the following calendar month, but you can specify a different reversing date for each posting.

SAP Business One General Ledger Determination rules are particularly powerful. You can define different cost centres or departments and allocate the revenue and cost accounts to a predefined profit centre in the chart of accounts. Thereby reducing the chart and providing Advanced GL reporting capability.

In SAP Business One one can use journal vouchers as a temporary storage facility for journal entries that cannot yet be posted to the specific SAP Business One company database. Once you have checked and approved the journal voucher content, you save it to SAP Business One. It is then reflected in the Financials.

You can define general ledger account assignment models, saving time and avoiding mistakes during the manual posting of journal entries.

Exchange Rate Differences
In SAP Business One you can maintain foreign currency (FC) business partners and/or accounts, SAP Business One conducts all related bookkeeping in foreign currency. As our clients will also be conducting in local currency (LC), SAP Business One expresses every FC transaction in LC according to the FC exchange rate on the date of transaction. Daily fluctuations in FC exchange rates may cause mismatches between the balances in LC and FC.

The Exchange Rate Differences function periodically recalculates the LC and FC balances according to the exchange rate on the day the differences are calculated.

SAP Business One provides recommendations for executing automatic journal transactions for exchange rate differences in FC business partners and accounts, correct to a given date. The Exchange Rate Differences function reconciles the FC card balance and the LC balance, considering the fluctuation in the FC exchange rate.
Financial Report Templates
This SAP Business One function allows you to create unlimited financial report templates that you can customise for your business needs. Users can create templates for the following reports:

Balance Sheet - Profit and Loss Statement - Trial Balance -
Cash Flow - FA Historic Report

This SAP Business One report provides comprehensive information about expenses and revenues that are credited to or debited from cost centers. Users can use the report to analyse the financial situation of cost centers (dimensions) in detail. Authorisation is required for viewing this report.

Generate the high-quality results required by international and local financial reporting standards.

Streamline the collection and consolidation of data for management and regulatory reporting.

Financial Close Governance
Put controls in place to make sure financial master data is managed consistently and across all of the applications.

Use SAP Business One to enable all required reports and disclosures in less time at a lower cost.
CLICK & COLLECT INFOSHEET
What makes a Finance Solution intelligent?
With SAP Business One, you can empower your staff to improve their Financial Management processes. All this is possible by integrating your system with the right solutions. Click below to download the Infosheet. No need to type in details such as an email address!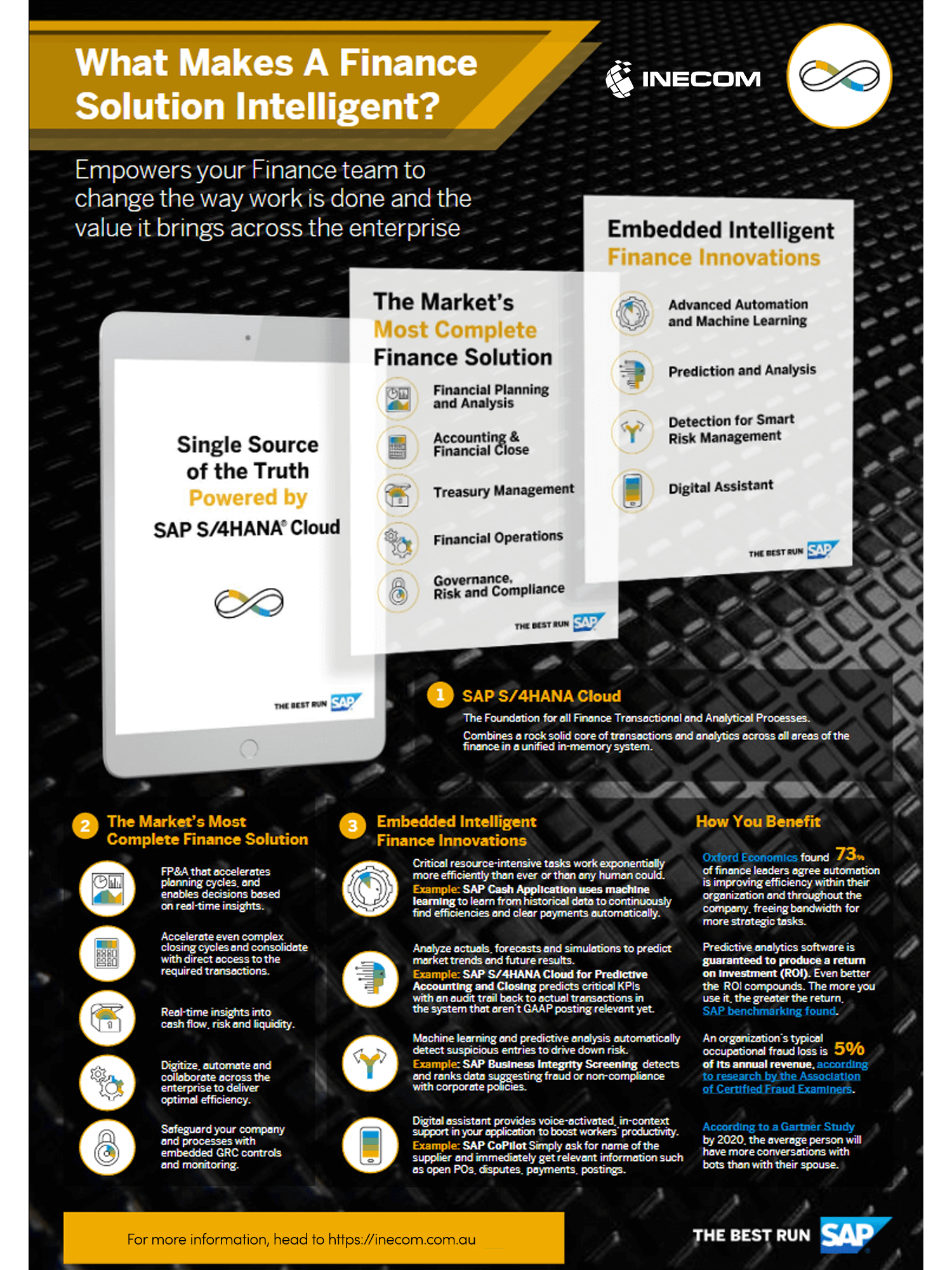 Free Initial Assessment
Book a free initial assessment with us where we understand your business problem and suggest a solution which suits you best and ensures growth for your business.