What Is Warehouse Insight for Microsoft Dynamics 365 Business Central?
Inventory and warehouse managers often find themselves battling inefficient operations due to inaccurate warehouse transactions and time-consuming manual tracking. With Warehouse Insight, this is now a thing of the past. With support for all Microsoft Dynamics 365 Business Central Location configurations and item tracking configurations, Warehouse Insight brings mobile device integration to a warehouse setting.
Fully integrated with Microsoft Dynamics 365 Business Central
Built directly in Microsoft Dynamics 365 Business Central, Warehouse Insight has been certified by Microsoft for Dynamics, which means it meets Microsoft's highest standards for Business Central extensions. You can trust Warehouse Insight to work seamlessly with your implementation of Microsoft Dynamics 365 Business Central, regardless of your warehouse configuration.
Support for a wide range of hardware
Warehouse Insight supports a variety of industry standard scanners and other mobile terminals. This flexibility enables you to leverage existing infrastructure or to tailor the hardware selection to the specific needs of your environment. All major brands are supported including Datalogic, Zebra, and Honeywell.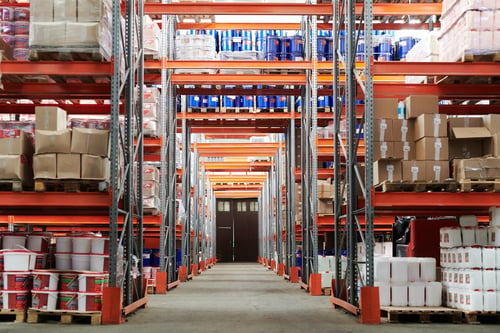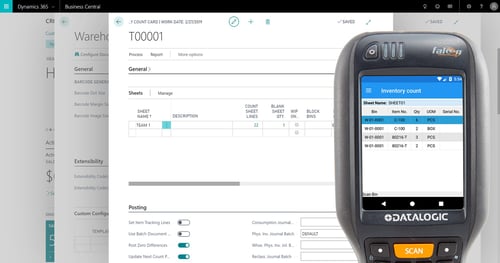 Perform all inventory and management operations from handheld devices
Inventory details from Microsoft Dynamics 365 Business Central can now be accessed and updated in real-time from the handheld device. This helps to ensure that the physical warehouse remains in sync with your data in Business Central. Manual tracking of warehouse transactions is no longer required, reducing the overhead and potential for errors resulting from double-entry of the data.
Capture Lot and Serial numbers for any transaction
For industries where lot tracking is required, Warehouse Insight provides robust functionality to help streamline the process. Lot and serial numbers can be recorded and tracked directly on the handheld device. In addition to tracking, Warehouse Insight provides reports to help you comply with regulatory requirements.
Leverage a consistent user interface on the handheld regardless of Location configuration
Warehouse Insight inherently supports all Microsoft Dynamics 365 Business Central location and item tracking configurations to quickly and efficiently enable a mobile workforce. Users will appreciate the consistent user interface as Warehouse Insight automatically adapts to the configuration applied to each Location within Dynamics 365 Business Central, whether you have Directed Pick turned on or don't even use bins.
Scan directly to sales and purchase documents
If you don't use warehouse documents, you can still reduce the effort normally associated with processing a sales or purchase orders by scanning with Warehouse Insight. Scan items, enter quantities to ship or receive, and leverage all the advanced tools in Warehouse Insight to simplify your operations.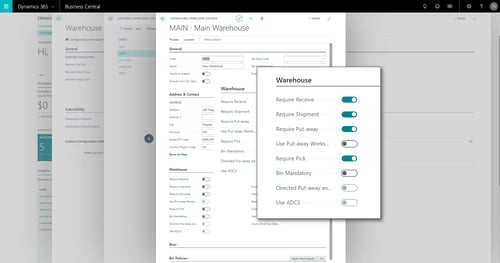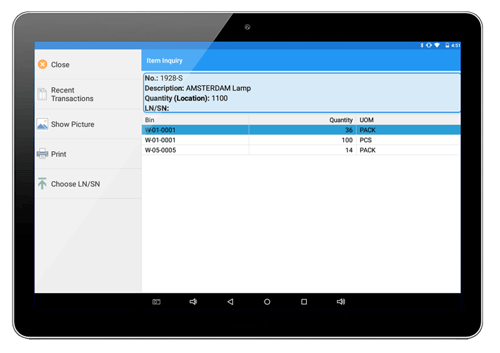 Palletize or package items to streamline warehouse operations
Warehouse Insight has full license plating capabilities. For businesses that need to track groups of items, such skids of materials, shipping containers, crates or boxes, etc., Warehouse Insight makes it easy. Warehouse Insight enables you to assign items to a License Plate Number (LPN) and then print a bar code right from your mobile terminal.
Easily configure views and menus on handheld devices
Warehouse Insight is easily configurable to make sure the software can match your physical processes without having to resort to coding and customizations. Unlike other WMS systems where you're forced to follow a specific workflow or sequence of actions, Warehouse Insight lets you configure the software to suit your specific needs. With Warehouse Insight, you have the option to program hot keys and screen layouts. It is a scalable and flexible solution that supports your business.
Supports All Configurations in Business Central
Non-Warehouse Shipping and Receiving
Warehouse Shipments and Receipts
Multi-Dimensional Barcode Support
Support for Android and Windows
Build your Own Functions with the Built-in App Designer
Inventory and Warehouse Picks and Put-Aways
Warehouse and Inventory Movements
Production Consumption and Output
Assembly Order Picking and Output
Electronic Data Interchange (EDI)
Frequently Asked Questions
How does Warehouse Insight handle multiple barcode formats?
How much information is a barcode able to obtain?
When working with multiple quantities of a single item, does the item need to be scanned multiple times?
I have multiple warehouses. Do I roll out Warehouse Insight to all locations at the same time or one-by-one?
What sort of uptime can we expect from Warehouse Insight?
I already have UPC codes on my inventory. What needs to happen to move to Warehouse Insight scanning?
Can information from Microsoft Dynamics 365 Business Central be displayed on handheld scanning devices?
What brands of handheld scanners does Warehouse Insight support?
What sort of Wi-Fi network is required to support Warehouse Insight?
What happens in the event our Wi-Fi network goes down for an extended period of time?
Free Initial Assessment
Book a free initial assessment with us where we understand your business problem and suggest a solution which suits you best and ensures growth for your business.