Microsoft Dynamics Business Central Financial Management
Finance Focused Role Centers!
To work in the most efficient with Microsoft Dynamics 365 Business Central, it is important that you use the role center that best suits your professional needs.
Microsoft Dynamics 365 Business Central offers more than twenty role centers. Financial users can use one of the following role centers:
Accountant

Accounting Manager

Outsourced Accounting Manager

Accounts Payable Coordinator

Accounts Receivable Coordinator

Bookkeeper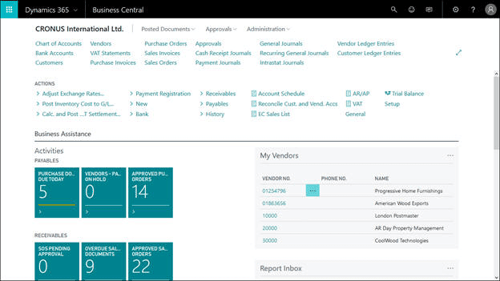 Why Microsoft Dynamics 365 Business Central Financial Management Suite?
From General Ledger to Fixed Assets to Cost Accounting to Advanced Dimensions to Inter-Company to full Microsoft Application Integration for such systems as Outlook, Excel and when presenting the results - automatically integrate to PowerPoint! Microsoft Business Central Financial Management is the hub of the business providing the Financial overview for; Project Management, Operations Management, Supply Chain Management and Sales & Service Management.

G/L accounts in the chart of accounts represent the financial structure of a company. You can set up balance sheet accounts and income statement accounts.

A dimension is the type of information that you want to add to your entry. For example, the cost controller wants to analyze the expenses per department.

Therefore, a dimension called Department can be set up. A dimension value is one of the possible values for a particular dimension that you can add to your entry.

For example, for each department a dimension value will be set up, which is named Sales, Administration, Manufacturing and so on. Dimensions are used for analysis purposes. They enable users to analyse expenses by department, sales by region, by customer group, etc.

Companies sell their items and services to customers. They also purchase items and services from vendors. Users working in the finance department process customer and vendor invoices and payments. Furthermore, receivables management also might involve sending reminders to customers. After setting up customers and vendors, you can use them in documents and journals.

One of the important tasks to perform by the finance department is processing payments and bank statements. Each bank account has its own card that contains different kinds of information. On the bank account card, you enter information that is specific to the individual bank account, and you can change this information, if this is necessary.
WATCH VIDEO
Working with Journals in Microsoft Dynamics 365 Business Central
General journals are used to post information into the general ledger and other accounts. Examples of such postings are adjustments, depreciation, accruals, and so on. In Business Central, there are some more advanced functions to process journal entries faster and more efficiently, like recurring journals and deferrals.
WATCH VIDEO
Working with Posting Groups in Microsoft Dynamics 365 Business Central
Posting groups map entities like customers, vendors, items, resources, and sales and purchase documents to general ledger accounts. They save time and help avoid mistakes when you post transactions. The transaction values go to the accounts specified in the posting group for that particular entity. The only requirement is that you have a chart of accounts!
WATCH VIDEO
How to work with Excel in Microsoft Dynamics 365 Business Central
In Microsoft Dynamics 365 Business Central, you can see KPIs and get overviews of the company's financial state. You can also open lists in Excel and analyse the data there. But you can also export heavy financial statements such as the balance sheet or the income statement to Excel, analyse the data, and print the reports.

In the Business Manager and Accountant Role Centres, you can choose which financial statements to view in Excel from a drop-down menu in the Reports section of the ribbon. When you choose a statement, it will be opened in Excel or Excel Online.
Free Initial Assessment
Book a free initial assessment with us where we understand your business problem and suggest a solution which suits you best and ensures growth for your business.