Microsoft Dynamics 365 Business Central Supply Chain Management
End to End Functionality for the modern Distribution Company.
Microsoft Dynamics 365 Business Central comprises Administration, Finance, Sales and Purchasing Processes, Inventory and Assembly Management, Warehouse Management, Fixed Asset Management, Manufacturing and Planning and Service Management.
Microsoft Dynamics 365 Business Central allows the creation of Dashboards or Work Centers for Each user to be prompted and to operate through their day. Integration to Office 365 and PowerBI, Microsoft Teams and Power Connect are all stepped through by and can be made available as the business requires.
What functions might you want to run in this complete solution?
Order to Cash?

Purchase to Pay?

Make to Stock?

Manage Production Orders?

Manage Inventory?

Manage Multiple Companies?

Operate Intercompany?

Manage Jobs and Projects?

Enter Timesheets?

Utilise Office 365?

Run PowerBi Reports?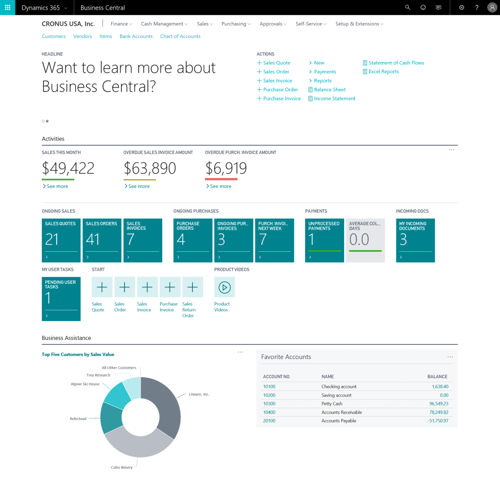 WATCH VIDEO
Microsoft Dynamics 365 Business Central: The financial Hub for Supply Chain!
The Microsoft Dynamics 365 Business Central General ledger stores your financial data and the chart of accounts shows the accounts that all general ledger entries are posted to. Business Central which includes a standard chart of accounts that is ready to support your business. So with the flexibility afforded you can create automatic Posting Groups that enable specific GL accounts to be updated when Customer Groups by Product Groups. The chart of accounts shows all general ledger accounts. From the chart of accounts, you can action:
View reports that show general ledger entries and balances.

Close your income statement.

Open the G/L account card to add or change settings.

See a list of posting groups that post to that account.

View separate debit and credit balances for a single account
You can add, change, or delete general ledger accounts. However, to prevent discrepancies, you can't delete a general ledger account if it's data is used in the chart of accounts.
WATCH VIDEO
Setting up an Item to sell in Microsoft Dynamics 365 Business Central
Items, among other products, are the basis of your business, the goods or services that you trade in. Each item must be registered as an item card.
Item cards hold the information that is required to buy, store, sell, deliver, and account for items. The item card can be of type Inventory, Service, or Non-Inventory to specify if the item is a physical inventory unit, a labour time unit, or a physical unit that is not tracked in inventory.
An item can be structured as a parent item with underlying child items in a bill of materials (BOM). In Microsoft Dynamics Business Central, a bill of material can be either an assembly BOM or a production BOM, depending on its use.
WATCH VIDEO
Special Prices in Microsoft Dynamics 365 Business Central
As part of the CRM, Quotation and day to day processing rules different price and discount agreements often apply when selling to different customers and these must be defined so that the agreed rules and values are applied to sales documents that you create for the customers.
When you have recorded special prices and line discounts for sales and purchases, Microsoft Dynamics 365 Business Central ensures that your profit on item trade is always optimal by automatically calculating the best price on sales and purchase documents and on job and item journal lines.
In regards to prices, you can have a special sales price inserted on sales lines if a certain combination of customer, item, minimum quantity, unit of measure, or starting/ending date exists.
WATCH VIDEO
How to create a Purchase Order in Microsoft Dynamics 365 Business Central
You create a purchase invoice or purchase order to record the cost of purchases and to track accounts payable. If you need to control an inventory, purchase invoices are also used to dynamically update inventory levels so that you can minimise your inventory costs and provide better customer service. The purchasing costs, including service expenses, and inventory values that result from posting purchase invoices contribute to profit figures and other financial KPIs on your Role Centre.
You must use purchase orders if your purchasing process requires that you record partial receipts of an order quantity, for example, because the full quantity was not available at the vendor. If you sell items by delivering directly from your vendor to your customer, as a drop shipment, then you must also use purchase orders. For more information, see Make Drop Shipments. In all other aspects, purchase orders work the same way as purchase invoices.
Free Initial Assessment
Book a free initial assessment with us where we understand your business problem and suggest a solution which suits you best and ensures growth for your business.