Assembly to Manufacturing - What is your focus?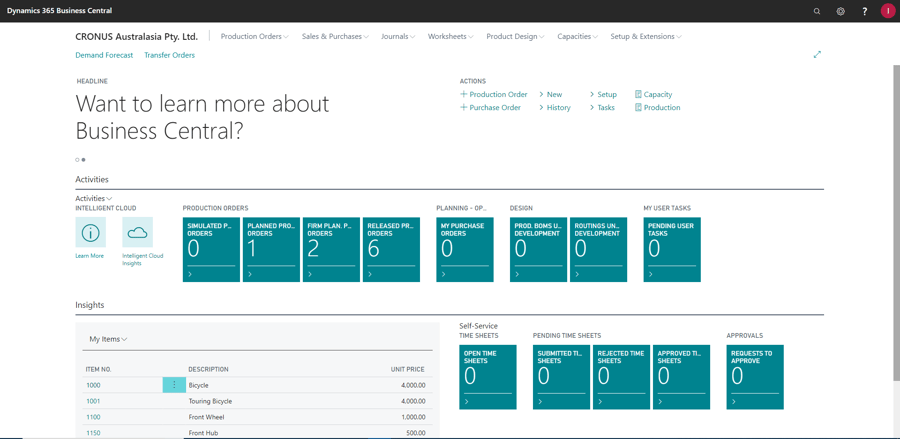 Microsoft Dynamics 365 Business Central comprises two editions: Essentials and Premium. Within the Essential Edition Business Central provides for Assembly Management where Manufacturing is simply not required.

So what is Assembly? Assembly is defined as an Item that can be sold and will comprise an Assembly Bill of Material (BOM)

What functions are typically supported for an Assembly Focused Business?
Assemble to Order and Assemble to Stock Process

Quote an Assemble-to-Order Sale

Assemble Items

Sell Items Assembled to Order

Sell Inventory Items in Assemble-to-Order Flows

Sell Assemble-to-Order Items and Inventory Items Together

Create Blanket Assembly Orders

Undo Assembly Posting

Bills of Material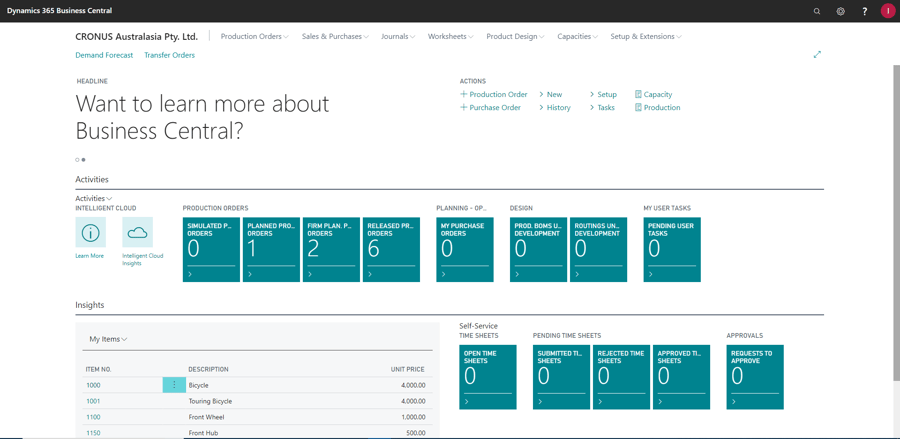 Microsoft Dynamics 365 Business Central comprises two editions: Essentials and Premium. Within the Premium Edition Business Central provides for Assembly Management and Manufacturing capability.

To convert material into produced end items, production resources, such as bills of material, routing's, machine operators, and machinery must be set up in the system.

Operators and machines are represented in the system as machine centres that may be organised in work centres and work centre groups. When these resources are established, they can be loaded with operations according to the item's defined material (BOM) and process (routing) structure, and according to the capacity of the machine or work centre. You can also set the production capacity of each resource. Capacity is defined by the work time available in the machine and work centres, and is governed by calendars for each level. A work centre calendar specifies the working days or hours, shifts, holidays, and absence that determine the work centre's gross available capacity (typically measured in minutes). All of this is determined by defined efficiency and capacity values.

When you have set up manufacturing, you can plan and execute production orders. For more information, see Planning and Manufacturing.

What function comprises Microsoft Dynamics 365 Business Central Manufacturing?
Production Bill of Materials

Production Orders

Supply Planning

Capacity Planning

Version Management

Master Production Scheduling

Materials Requirements Planning

Automatic production orders and purchase orders.

Action messages for fast and easy balancing of supply and demand

Support for bucket-less and bucketed material requirements planning

Demand Forecasting

Sales and Inventory Forecasting

Finite Loading

Machine Centers
Why Microsoft Dynamics 365 Business Central Manufacturing Management?
With Microsoft Dynamics 365 Business Central's Manufacturing Management modules, simply made available by selecting the Premium Subscription Edition, your manufacturing processes become completely integrated and deliver a coherent approach to your business management.
Free Initial Assessment
Book a free initial assessment with us where we understand your business problem and suggest a solution which suits you best and ensures growth for your business.

Business Central Production Order
Production orders are used to manage the conversion of purchased materials into manufactured items. Production orders route work through various work or machine centres on the shop floor.
Before proceeding with production, most companies perform supply planning, typically once a week, to calculate how many production orders and purchase orders to execute to fulfill that week's sales demand. Purchase orders supply the components that are required according to the production BOM to produce the end items.
Production orders are the central components of application's manufacturing functionality and they contain the following information:
Products planned for manufacturing
Materials required for the planned production orders
Products that have just been manufactured
Materials that have already been selected
Products that have been manufactured in the past
Materials that were used in previous manufacturing operations
Production orders are the starting points for:
Planning future manufacturing
Controlling current manufacturing
Tracking of finished manufacturing


Business Central Planning
The planner of a company, such as a purchaser or a production planner is presumed to be the user of the planning system. The planning system assists the user by performing the extensive but rather straightforward calculations of a plan. The user can then concentrate on solving the more difficult problems, such as when things differ from normal.

The planning system is driven by anticipated and actual customer demand, such as forecast and sales orders. Running the planning calculation will result in Business Central suggesting specific actions for the user to take concerning possible supply from vendors, assembly or production departments, or transfers from other warehouses. These suggested actions could be to create new supply orders, such as purchase or production orders. If supply orders already exist, the suggested actions could be to increase or expedite the orders to meet the changes in demand.

Another goal of the planning system is to ensure that inventory does not grow unnecessarily. If demand decreases, the planning system will suggest that the user postpone, decrease in quantity, or cancel existing supply orders.

MRP and MPS, Calculate Net Change Plan, and Calculate Regenerative Plan are all functions within the planning logic and is supported by other routines and processes in Business Central.