Power Apps
Power Apps is a suite of apps, services, connectors, and a data platform that enables you to build custom apps for your business needs. By using Power Apps, you can quickly build custom business apps that connect to your business data stored in various data sources. Business Central can be such a source of business data.

Apps built on Power Apps provide rich business logic and workflow capabilities to transform your manual business processes to digital, automated processes. Power Apps simplifies the custom business app building experience by enabling users to build feature-rich apps without writing code. Power Apps also provides an extensible platform that lets developers programmatically interact with data and metadata, apply business logic, create custom connectors, and integrate with external data.

You don't need to be a skilled developer to work with Power Apps, but if you want to make a successful app with Power Apps for Business Central, it does require an understanding of the solution architecture and business logic within Business Central.
These are the key areas we will work through with you in this workshop.
Canvas apps start with the user experience, crafting a highly tailored interface with the power of a blank canvas and connecting it to your choice of 320+ data sources. One of those data sources is Business Central and you can easily build apps connected on Business Central data through available API's in Business Central. If they are not enough for your requirements, you can create custom connectors based on your custom API's.


Here are some sample Canvas Apps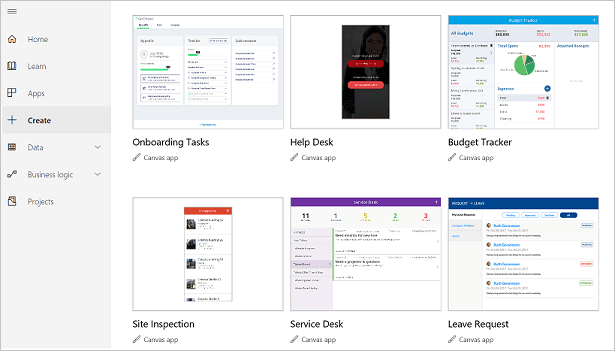 Model-driven apps start with your data model. Model-driven apps build up from the shape of your core business data and processes in the Microsoft Dataverse, to model forms, views, and other components. Unlike canvas app development where the designer has complete control over the app layout, with model-driven apps much of the layout is determined for you and designated by the components you add to the app. By using model-driven apps, you can automatically generate great UI that is responsive across devices and this UI is typically part of our customer engagement apps. Model-driven app design is a component-focused approach to app development and its design doesn't require code. Model-driven apps can be simple or complex.
Here is an example of a Model Driven App that is readily available
Asset Checkout
Asset Checkout provides self-service capabilities to reserve the tools and equipment your teams need to do their jobs, while accurately calculating available inventory and much more.