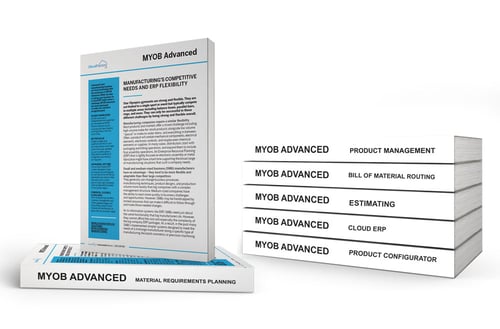 Implement your manufacturing business on cloud technology with the assistance of MYOB Advanced.
While the idea of taking your business to a cloud ERP might seem a challenge, MYOB Advanced Manufacturing has been developed to make the transition straightforward.

EXPERT KNOWLEDGE - MYOB Advanced is implemented and supported by Cloud Factory across Australia and New Zealand, working directly with you at all times.

BETTER VALUE - Forget complex and expensive servers or your own data centre which need to be continually updated as your business grows. Enjoy the convenience of straightforward monthly pricing plans.

ANYWHERE, ANYTIME - A true Cloud-based ERP system designed to help businesses be more flexible by working online. MYOB has partnered with Amazon Web Services (AWS) a local best-in-class high availability data storage centre located in the Sydney region.

POWERFUL, FLEXIBLE, & SCALABLE - From streamlining workflow, inventory management and CRM to General ledger and accounting support, every module has the flexibility to grow with your business needs.
Download MYOB Advanced Factsheets Bundle
6 different factsheets to help you learn more about MYOB Advanced Manufacturing.
MYOB ADVANCED PRODUCTION MANAGEMENT
Sophisticated production management that supports multiple types of environments: make-to-stock, make-to-order, engineer-to-order, configure-to-order, project-centric, job shop, batch, and repetitive.
MYOB ADVANCED BILL OF MATERIAL/ROUTING
A multi-level Bill of Material (BOM)/Routing that presents both engineering and financial views of the product structure; efficiently plans and manages your inventories, costs, and manufacturing processes as well as full revision control.
MYOB ADVANCED ESTIMATING
Begin your manufacturing process with a fast and accurate estimate. With MYOB Advanced Manufacturing Software Estimating, the user is given the flexibility to quickly create detailed manufacturing estimates, improve estimate accuracy and turnaround times.
MYOB ADVANCED MANUFACTURING'S COMPETITIVENEEDS AND ERP FLEXIBILITY
Star Olympics gymnasts are strong and flexible. They are not limited to a single sport or event but typically compete in multiple areas including balance beam, parallel bars, rings, and more. They can only be successful in these different challenges by being strong and flexible overall.
MYOB ADVANCED CLOUD ERP: HELPING MANUFACTURERS KEEP UP WITH THE TIMES
Implement your manufacturing business on cloud technology with the assistance of MYOB Advanced.
MYOB ADVANCED MATERIAL REQUIREMENTS PLANNING (MRP)
MRP is the software engine that takes demand from sales orders and forecasts, in conjunction with the supply of purchase orders, production orders, and master production schedules to generate planned orders in a time-phased manner to offset the outstanding demands for end items and sub-assemblies.
MYOB ADVANCED PRODUCT CONFIGURATOR
The MYOB Advanced Manufacturing Software Product Configurator is a powerful tool that enhances quality and accuracy in the manufacturing of complex products.
Free Initial Assessment
Book a free initial assessment with us where we understand your business problem and suggest a solution which suits you best and ensures growth for your business.