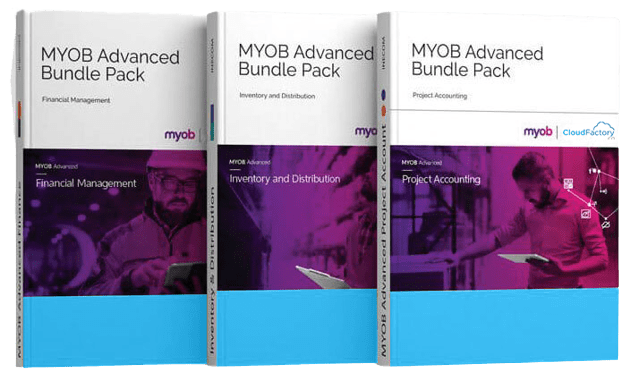 Everything you need to know about Financials, Inventory and Distribution, and Project Accounting.
Manage complex projects easily and get a complete overview of your business in one place.
MYOB Advanced is a Cloud Enterprise Resource Planning System that suits small-to-medium organisations such as engineering, construction, manufacturing, consultants, marketing and more.
Here we are offering 3 of our most popular eBooks that cover 3 modules of MYOB Advanced. These are: Financials, Inventory and Distribution and Project Accounting.
Download your free copy now.
Download Bundle Pack with Case Studies
Take Control of your Financials Management
The benefits of this unified system include:
Financial Management

General Ledger

Accounting

Inter-company Accounting

Bank Feeds

A case study of a growing business successfully integrating MYOB Advanced Financial Management to their business.
Take Control of your Inventory and Distribution Management
The MYOB Advanced Distribution Management edition includes the following:
Sales Order Management

Advanced Inventory

Purchase Requisition Management

Purchase Order Management

Warehouse Management System and

Advanced Financials.
Take Control of your Project Accounting
The benefits of this unified system include:
Information flow between functions
Reduction in duplication of effort, manual data entry and real-time
business insights.
Intelligent project accounting
Cost Tracking
Advanced Project Billing
Time and Expense Management and more